USA Diploma Frames  is dedicated to providing a quality college diploma frames at an affordable price. Build your own custom diploma frame or choose from a variety of pre-built graduation frames. We offer graduation frames with tassels, double-degree frames, classic frames, and embellished frames.
Whether it's your Bachelor's, Master's, or Doctorate degree, we have a diploma frame for you. Customize your frame to the specific size of your university degree. Display your accomplishment at home or at the office for years to come.
Single Document Frames
Designed to display your diploma, certificate or award in an elegant frame with your choice of matte color. Size of frame will depend on the diploma size.
Starting at $99.00
Double Document Frames
This frame allows you to place two diplomas or two documents into one frame. Ideas for this frame include two diplomas or a school picture and diploma. We will customize the openings based on your diploma size and/or photo size. Size of frame will depend on the diploma size.
Triple Document Frame
This product allows you to display a lithograph ( or photo of your choice) and two diplomas. Openings are customized to match the size of your documents. Size of frame will depend on the diploma size.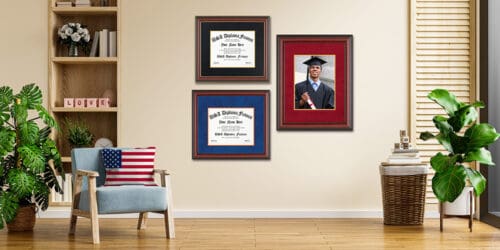 College diploma frames deserve a place on your wall! Custom build your university degree frame today. We offer a variety of college diploma frames ranging from simple to more decorative. Our cherry mahogany frames are a traditional choice sure to last a lifetime. For a more modern look, check out our black matte or white matte frame mouldings. If you really want to make a statement, the cherry rope and executive black mouldings really make a showing. Whatever you choose, We will build your diploma frame with care and customize your diploma frame the way you want it!